TCHON Noir S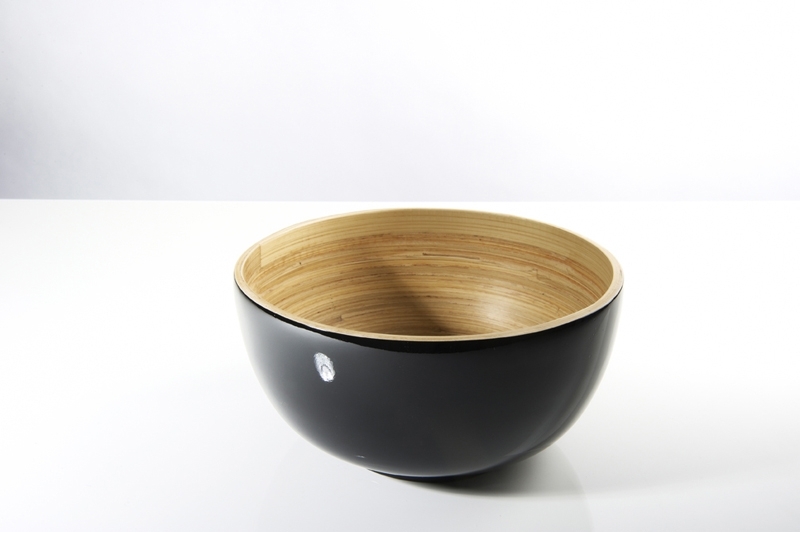 Small black bamboo salad bowl
Dimension: Ø 8'' x 4''
Capacity: approx. 1.8 liters
Sign of elegance and refinement, black incarnates mystery, authority and infinity. bibol's black lacquers are of an absolute depth.
This generous and timeless salad bowl can contain a salad for 2-3 people or pasta for even more people. Keep a food warm for a long time by covering it with DIA S, serve easily with TIA M salad servers.
This pure and elegant shape is available in natural, matte, lacquer or eggshell finishes and 9 sizes: Ø 4'', 4.7'', 5 1/2'', 6 1/3'', 7'', 7 7/8'', 9 1/2'', 11'' and 13.3''
Our products are food safe: they can contain liquids, solids, hot (up to 158°F) and cold food. Handmade, hand wash ! Use hot water, dish soap, rinse and wipe carefully after cleaning. Do not let the product soak in the water. Dry right away with a soft dish. Do not let air dry. Do not put in dishwasher, nor microwave.
Our lacquers and varnishes are natural as they are made without solvent nor organic volatile compound. Entirely handmade according to fair trade principles , our products may show slight variations in color or shapes as they are uniques.
In stock

TC1000.SS

9

Unit

Units
Lacquers and varnishes
Bamboo is always natural. What makes the difference is the way it's assembled, painted and varnished. bibol's products are assembled with a natural resin. Paints and varnishes are food safe and clean: without V.O.C (organic volatile compound) and formaldehyde-free. It's better for you, for the planet and even better for those who manufacture them.
Fair manufacturing
bibol has been working with hundreds of Vietnamese craftsmen since the beginning. Prices are set by craftsmen. They always have a working capital: bibol finances production well upstream. Craftsmen are paid 2 to 3 times the minimum wage and have health insurance. There is no child labor. And most importantly, they are not in solvents all day.
Clean products manufacturing and fair trade have a price. Our manufacturing cost is 2 to 3 times more important than those who use solvents. To remain fair with the consumer, we reduce side costs: there is no intermediary between Vietnamese craftsmen and bibol as Little Moon speaks perfectly Vietnamese. No over-packing: cartons are used from Vietnam and they are already coming from recycling, they are kept for shipments. Transportation is by boat.

bibol products reflect the quality of human exchanges: sustainable and natural. To avoid any confusion with other bamboo products which we don't know what they're made of, bibol products are always signed, a guarantee of our quality and our ethic.
No customer reviews for the moment.